'Stolen' Turkish bridge was washed away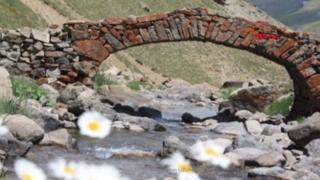 Villagers in north-eastern Turkey raised the alarm when a cherished 300-year-old bridge seemed to vanish overnight.
The people of Arslanca feared that treasure hunters had dismantled the arch bridge, which connected the village with three highland pastures, stone by stone in their remote area of Gumushane Province, the Demiroren news agency (DHA) reported.
Some villagers had apparently seen the bridge across the Balahor stream as recently as last week, according to subsequent media reports, further fuelling suspicions. Turkey takes the plundering of its rich architectural heritage very seriously, so the police launched an immediate investigation, the Daily Sabah newspaper reports.
It did not take them long to uncover a series of misunderstandings, but no crime.
Village elder Coskun Dogan told the investigators he had heard no talk of any bridge-robbers until the media took up the story. All the villagers had told him was the "bridge had collapsed, and most of its stones appeared to be missing".
The reports of theft amounted to no more than local speculation about where the large stones had ended up, as they would have been strewn about if the bridge had simply collapsed, Daily Sabah said.
'Baseless allegations'
The steep mountain valleys of the Black Sea region are prone to flash floods all year round, although there have been no rains in recent weeks heavy enough to wash away an entire bridge.
But the Gumushane governor's office said there had been a late-summer storm powerful enough to sweep the bridge and its stonework downstream, and the police investigation concluded that this was the case.
"The allegations were baseless, and the bridge was destroyed by a flood three months ago," Daily Sabah reported.
You may also be interested in:
Turkey's 'bird language' under threat
Turkey seeks Ottoman architect's skull
Thieves steal entire German vineyard
The region is dotted with many historic bridges dating as far back as the Byzantine era, and local people continue to use them to drive their livestock to pasture.
The governor's office said the bridge was not on the national cultural heritage list, and so the villagers of Arslanca are unlikely to have their beloved landmark rebuilt.
Reporting by Martin Morgan
Next story: Campaigners want to free Portugal's tethered dogs
Use #NewsfromElsewhere to stay up-to-date with our reports via Twitter.