Theatre poster upsets Russian bureaucrats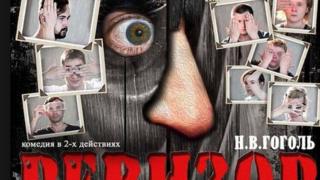 A famous satire on Russia's 19th century bureaucracy has stood the test of time by riling a group of city elders into censoring a theatre poster of the play.
The authorities in Syzran, a city in the Samara Region of southern Russia, took exception to the wording used by the Tolstoi Drama Theatre to announce its performance of The Inspector General, Nikolai Gogol's classic mockery of provincial officialdom, the Novye Izvestia news site reports.
The theatre chose the play to mark its centenary. Most passers-by might have notice the striking visuals of the poster, but the officials zoomed in on a small heading that read "a bureaucrat's nightmare in two acts".
What might have amounted to no more than a ruffling of local feathers became a social media storm when Samara Region independent councillor Mikhail Matveyev gave a detailed Facebook account of the "unpleasantness" the theatre chief and the director of the play allegedly encountered at the hands of the Syzran authorities.
He said the pair were accused of "rocking the boat of public consciousness" with their choice of words, and were told either to change the poster or find themselves new jobs when the theatrical season ends in January. "The Syzran bureaucrats thought it was subversive," the councillor concluded.
Mr Matveyev, an historian and public figure known across Russia, said his source was an anonymous letter, but theatre director Sergei Salmin brushed it off. "The bureaucrat's nightmare line was just a working title that made it onto the poster by mistake," he told the popular Komsomolskaya Pravda tabloid. The city government backed him up, adding that "there's no talk of sacking anyone".
'Gogol lives!'
But Mr Matveyev's account won the online credibility battle, Komsomolskaya Pravda says. The original poster was taken down from the theatre's VK social media site and amended to describe the play more primly as a "comedy in two acts" - but not before readers had managed to copy and share the original online.
Social media users enjoyed the spectacle of bumbling provincial bureaucrats getting into a spot of bother over a play about bumbling provincial bureaucrats getting into a spot of bother. "Gogol lives!!!! His comedy is bang up to date," wrote one Facebook user. "If they'd kept quiet, no one would have noticed this," noted another drily.
You might also enjoy:
Russian 'burning church' art engulfed in controversy
Ballet and football collide on the Russian stage
Moscow hunts for theatre's missing star cat
More ominously for the city government, Samara Region's Culture Minister Sergei Filippov also joined in. "Someone clearly lacks a sense of humour in wonderful Syzran, and no one is going to touch the theatre directors", he commented on Mikhail Matveyev's Facebook post. "Gogol's characters are clearly alive and well, But at least this has advertised the performance."
Komsomolskaya Pravda agreed, adding that "the Syzran staging of The Inspector General is already a hit before it's even had its premiere".
Mr Filippov said he would "have a word with our colleagues in Syzran", before reminding them of one well-loved quotation from the play - "Who are you laughing at? Laugh at yourselves!"
Reporting by Martin Morgan
Next story: Taiwan hair salon covers 'swastika' signs after outcry
Use #NewsfromElsewhere to stay up-to-date with our reports via Twitter.