Uzbek row over 'short skirts' in school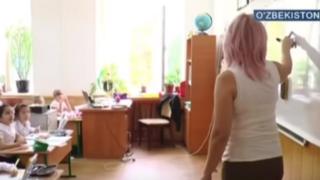 Uzbekistan's education minister has defended female teachers after state television accused some of them of wearing "inappropriately short" skirts in class.
The Uzbekistan 24 TV channel's International Press Club talk show said some teachers and students "dress just as they like" and risk tempting teenagers to "gaze at the teacher's body" rather than attend to their studies.
The programme sent a reporter into schools in the capital Tashkent and filmed both teachers and female students wearing clothes that would be deemed unremarkable on the city streets even of this relatively conservative country. "Look at the clothes on this teacher, who is supposed to be a role model for children. Is it OK to teach in such clothes?" demanded the reporter.
Various public figures spoke out against "dress code shortcomings" on Wednesday's programme, including a medic who warned that tight clothes can cause infertility. Education Minister Sherzod Shermatov, a guest on the programme, said clear school uniform guidelines would resolve any concerns.
The talk show prompted a barrage of criticism on social media, with members of the public accusing it of being overly judgemental and ignoring journalistic ethics.
"We're turning into North Korea. Journalists - if you are really passionate about our children's future, report about schools in Samarkand with no heating, toilets or even textbooks," complained one viewer in a representative comment.
'Humiliating'
Minister Shermatov then took to Facebook to condemn the show he had appeared on two days earlier.
"Publicly humiliating individuals is unacceptable in a civilised society, especially when we're dealing with children," he wrote. He called on reporters to "stop discrediting teachers and show some respect - we already have a shortage of good teachers".
You might also be interested in:
Uzbek TV show shames public lovers
Uzbek TV apologises for Amy Schumer scene
Film blocked over lack of Morgan Freeman
Echoing social-media complaints, the minister accused journalists of focusing on "secondary problems" while major issues need dealing with.
Sherzod Shermatov's acknowledgement of problems in the schools system and his use of social media to address public concerns are signs of the greater openness and accountability being cautiously encouraged by Uzbek President Shavkat Mirziyoyev, who took over as head of the country's authoritarian political system on the death of President Islam Karimov two years ago.
Reporting by Martin Morgan
Next story: Russian army plans 'Game of Thrones' cathedral
Use #NewsfromElsewhere to stay up-to-date with our reports via Twitter.