Hong Kong 'cardboard granny' has case overturned
By News from Elsewhere...
...as found by BBC Monitoring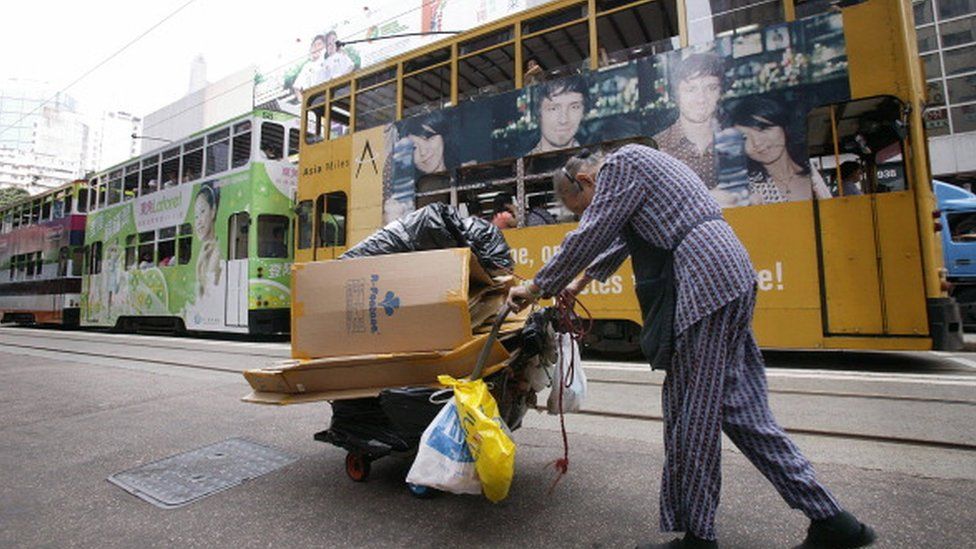 An elderly Hong Kong woman who was fined for "setting down a bag of rubbish" has had her case overthrown following local protests, it's been reported.
She was collecting scrap cardboard in a trolley, but had temporarily set a bag on the ground within sight of an FEHD officer, who told her that she had broken the law.
Ms Chen is what is known locally as a "cardboard granny" - an elderly street scavenger who collects rubbish and sells it on to recyclers as a means of making a living.
"I told the officer I did not dump the rubbish on the street," she told the paper. "But he said 'No, if your bag of rubbish touches the ground, you have already violated the law.'"
The authorities in Hong Kong can charge and prosecute rubbish collectors for a number of offences, including causing obstructions and unlicensed hawking.
You might also be interested in:
The Waste Picker Platform concern group submitted a letter of appeal to the FEHD and began an online petition on 26 July to rally support for Ms Chen's cause. It received over 1,600 signatures, and the FEHD overturned her prosecution on Monday.
And the case has ignited local concern about the exploitation of such groups.
Hong Kong is one of the most expensive cities in the world, and home to an estimated 2,900 "cardboard grannies". The majority of these rubbish collectors are over 60-years-old, and they earn on average some HK$716 ($91; £71) a month, South China Morning Post says.
Use #NewsfromElsewhere to stay up-to-date with our reports via Twitter.