Woman detained in Slovakia for playing Verdi for 16 years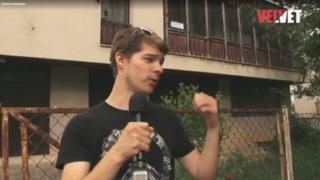 A woman who has been driving her neighbours crazy by blasting out opera music for 16 years has finally been arrested in Slovakia, it's reported.
According to Hungarian news site Parameter.sk, the woman, identified only as Eva N, played a four-minute aria from Giuseppe Verdi's 'La Traviata' non-stop, in her house with speakers on full blast, from morning until night.
Parameter.sk says that the homeowner in the southern town of Sturovo played the music for years to drown out a neighbour's loud barking dog, and had simply continued doing it.
Residents poured out their anger to local media, furious that the high volume harassment had been allowed to go on for so long.
"I love Placido Domingo," one woman said in a video for Hungarian news site Index.hu, referring to the Spanish singer whose version she was playing, "but not like this!"
"The whole street is suffering," another resident told the Slovak Sme newspaper.
You might also be interested in:
Police arrested the woman on Monday and she faces charges of harassment and malicious persecution. She's been remanded in custody and if found guilty, she could face between six months and three years in prison. It has not been made clear when she will stand trial.
This is not the first time that someone has stood trial for disturbing neighbours by playing a song loudly, and on repeat. In March 2017, a British woman from Walsall was jailed for repeatedly playing Ed Sheeran's Shape of You and causing "a wholly unacceptable level of disturbance".
Reporting by Tom Mulligan
Next story: Algerians go online to sell animals for Eid sacrifices
Use #NewsfromElsewhere to stay up-to-date with our reports via Twitter.