Japan airport to gift people who hand in old suitcases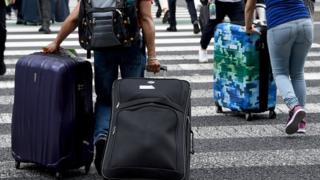 A Japanese airport is going to start giving gifts to people who turn in their unwanted suitcases, to avoid them being dumped around the building, it's reported.
According to the Asahi Shimbun newspaper, Kansai International Airport in Osaka Prefecture is going to start offering travellers ballpoint pens, notebooks and similar small gifts if they turn their unwanted suitcases over to staff on the departure floor.
The paper says that the airport has been finding sometimes as many as 10 suitcases a day discarded outside bins, or around the airport building.
Asahi Shimbun notes that the airport has been running out of space because of the overflow of abandoned suitcases, even with many subsequently being handed over to the police.
It says that this is largely due to an increased number of foreign tourists in the region.
Safety concern
The airport operator, Kansai Airports, says the surge of discarded luggage, which first attracted national media attention about a year ago, "has led to problems with space and security".
Consequently, from 6 August, the airport is encouraging passengers to hand over their old suitcases at the baggage-check counters at departure, and claim small gifts.
You might also be interested in:
Airport staff will check the suitcases for hazardous items before the airport takes possession. It will then resell them through vendors.
In order to publicise the scheme, Asahi Shimbun says that Kansai International Airport will be posting multilingual posters to raise awareness.
Reporting by Kerry Allen
Next story: New Zealand shop battles in court over Weetabix imports
Use #NewsfromElsewhere to stay up-to-date with our reports via Twitter.