Russian ministry spokeswoman turns songwriter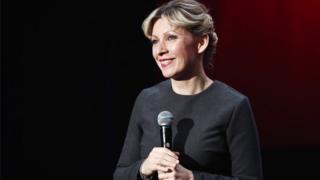 The Russian Foreign Ministry's chief spokeswoman seems to have a burgeoning second career writing lyrics for pop songs.
Maria Zakharova, despite a full-time day job as the public face of Russian diplomacy, has supplied the words to "Paid in Full", a break-up song performed by popular singer Katya Lel, Argumenty i Fakty newspaper reports.
The bouncy number, which would not sound out of place on Eurovision, came about as a chance encounter between Katya Lel and Ms Zakharova, the latter coming up with the lyrics "after a sleepless night".
"I paid for everything… The race is over, and you are not the only one anymore. I'm free like a wave, once again," the Russian lyrics go.
It's not the first time that she's branched out into song, either. Last year she wrote "Return the Memory", a song about Syria for singer Narghiz.
However, Ms Zakharova has pointed out that she's not for hire. She told the official TASS news agency: "Many people ask me to write, but I don't work to order. I need to feel, to understand - emotions come first, and then the words."
You might also be interested in:
Nor is she the first Russian government official to go into music.
Vladimir Putin's former speechwriter Jakhan Pollieva has written lyrics for a number of songs, including the 2007 hit "A Snowstorm is Coming", while the president's advisor and one-time deputy prime minister Vladislav Surkov reportedly wrote lyrics for the now-defunct Russian rock band Agatha Christie.
Reporting Igor Sazonov and Alistair Coleman
Next story: Puddle splash driver loses his job over dashcam footage
Use #NewsfromElsewhere to stay up-to-date with our reports via Twitter.