Icelandic candidate asked to step down over digger rampage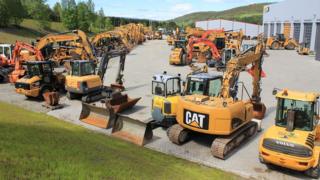 An Icelandic political candidate has been asked to step down after reportedly going on a drunken rampage whilst driving a digger.
National broadcaster RUV reports that police were called to southern Biskupstunga on 13 May, after hearing that a man was behaving unusually whilst operating a two-tonne construction machine.
It is not clear whether the construction vehicle belonged to the driver, but police told the Visir newspaper: "In view of the state of man, [his] driving and the general traffic there, it was decided to use a police car to stop him."
After following him to nearby Skálholtsvegur, "police attempted to block the berserker, but he forced them off the road," Reykjavik Grapevine reports. Opting for more decisive action, police then took actions to topple to digger over, the Grapevine continues.
The so-called "berserker", who was subsequently taken to hospital by helicopter, was later named as Ingvar Orn Karlsson, a firefighter and candidate for the Nytt Afl (New Power) political party, DV newspaper says.
A subsequent Nytt Afl party meeting decided to withdraw Ingvar Orn's local election candidacy for the Bláskógabyggð municipality, Visir reports.
The local elections are set to take place on 26 May, and party leader Jon Snaebjornsson has called the incident "a human tragedy".
However, under election law, it's too late to remove him from the ballot papers, so the party will ask him not to take his seat if he is elected, Nytt Afl said in a Facebook post.
Icelandic media say Ingvar Orn has been unavailable for comment since the incident.
Reporting by Alistair Coleman
Next story: Turkmen president drifts into pole position at rally
Use #NewsfromElsewhere to stay up-to-date with our reports via Twitter.