Trademark row over Iceland football chant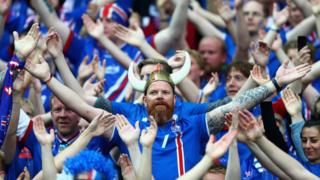 An Icelandic cartoonist has found that he can't sell T-shirts featuring the chant made famous by the country's football fans because the word has been trademarked.
Hugleikur Dagsson produced the shirts featuring the "Hú" chant to mark the country's participation in the World Cup finals in Russia, the first time the national team has reached the tournament's final stages, Iceland Monitor reports.
The chant was made famous by fans dressed as Vikings at the European Championship finals in 2016, where Iceland reached the quarter-finals, beating England along the way.
However, it transpires that a 2016 trademark on the word "Húh" also applies to "Hú", after the Icelandic trademark office ruled that they are the same word, and Dagsson has been told to stop printing the shirts or pay a royalty to the trademark holder.
'The Grinch has stolen the Viking clap'
It's a move that has angered the cartoonist, writing on Facebook that "The Grinch has stolen the Viking clap", noting that the trademark is grammatically incorrect, as Icelandic never adds the letter 'h' to the end of words.
"Secondly," he says, suggesting that nobody should own the word, "I thought we had plundered the clap from Scotland like real Vikings."
Despite the notice, Dagsson is undeterred, and says that he will continue selling the contentious shirts, telling Reykjavik Grapevine that half of the profits will go to the Icelandic Cancer Society.
"Well, the ball is his [the trademark holder's] court. So we decided to tell Facebook about this and see what happens," he said.
The patent office has not commented on the row, but documentation shows that the word "Húh" is registered until September 2026.
Reporting by Alistair Coleman
Next story: Uzbeks told to tend their gardens or face triple tax
Use #NewsfromElsewhere to stay up-to-date with our reports via Twitter.