Belarus forests face beetle 'catastrophe'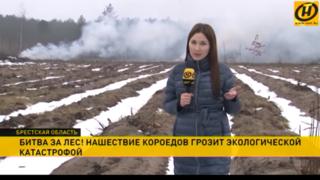 An onslaught of bark beetles is threatening to decimate the mighty pine forests of Belarus.
The ravenous insects destroyed more than 5,000 hectares (12,355 acres) of woodland in Brest, the country's westernmost region, last year alone - "almost the area of a small town", says state TV's ONT channel.
Viktar Ambrazheichik, the forestry chief of Drahichyn district, told ONT he hasn't seen anything like it in 30 years, and warned that the "problem is only just beginning". Pinsk, Stolin and Luninyets districts are already affected, and the beetles are now spreading into Drahichyn.
It takes the tiny insects less than six months to destroy several hectares of forest, both saplings and mature trees, and it's a race against time to save the healthy pines.
"The beetles are dormant for now, so we have to get rid of them and the trees they've infested before they wake up with the spring," said Ambrazheichik.
Frost resistant
Even the strong frosts Belarus has seen in recent weeks won't help. The hardy insects can survive temperatures of minus 36 Celsius, which the country hasn't seen since the famously harsh winter of 1941.
As if this weren't bad enough, Forestry Minister Mikhail Amyelyanovich said global warming has lowered the water table so much that the ministry is considering having to irrigate the woodlands to save them from drying out.
He assured viewers that the "situation is under control," despite ONT's constant on-screen caption about "ecological catastrophe".
He acknowledged that the mass felling of 80-year-old trees might seem extreme, but "we have to stop these bark beetle outbreaks, or else all we'll be left with is woodchip".
Pesticide worries
Meanwhile, forest rangers are working seven days a week to clear the infested trees, which will be used as sawn timber and chip for wood burners. They are also going to plant more resistant silver birch among the pines.
As for the next step, Vyachaslau Zvyahintsau of Brest Technical University said the only way to prevent further outbreaks is to "improve the monitoring system, and catch the infestation early".
"Otherwise, the beetle lives unnoticed under the bark until it's too late, and the amount of pesticide needed to eradicate it would also damage the whole forest eco-system," he warned.
Reporting by Martin Morgan
Next story: Germans campaign for memorial to victims of communism
Use #NewsfromElsewhere to stay up-to-date with our reports via Twitter.