South Koreans conquer fear of dining alone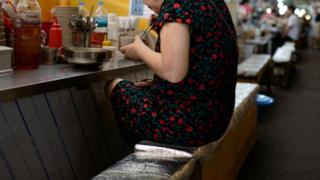 Sales of ready-made meals-for-one are on the increase in South Korea as locals conquer a deeply ingrained cultural fear of dining alone.
According to figures recently published by the government's Statistics Korea organisation, consumption of instant rice and single-serve lunches is bucking the national trend which shows rice consumption to be on the decline, Korea Bizwire reports.
That's down to more people taking up the "honbap" (eating alone) habit, a Statistics Korea official says, a habit that has - until recently - been seen as taboo in South Korean society.
Writing in 2016, Chang May Choon of Singapore's Straits Times explained that solo dining goes against Koreans' pressing need to belong to a group and not be ostracised.
"What they fear is losing their chaemyon (reputation) if people think of them as a wangda (loner), and that's a big taboo," Ms Chang said.
'Social outcast'
One solo diner (who, tellingly, asked not to have his real name published) told Korea Herald that he gets self-conscious when he eats alone in public, thinking others may judge him as a "social outcast."
"I think there is still this public notion that if you are eating alone, there must be something wrong with your social life," he told the paper in a 2016 interview.
But a big increase in one-person households and a culture that increasingly emphasises "me time" is driving the change, Maiel Business Newspaper reports.
And the taboo-breaking trend is becoming so widespread that even high-end restaurants are increasing their tables for one, MBN says, noting there's even a mobile phone app which recommends solo-friendly restaurants.
Reporting by Tae-jun Kang, Alistair Coleman
Next story: Cow walks on wild side with Polish bison
Use #NewsfromElsewhere to stay up-to-date with our reports via Twitter.