People keep stealing Canadian city's parking meters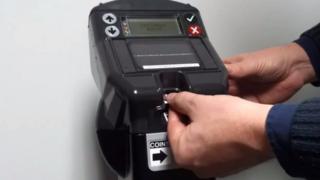 A quarter of the parking meters in the Canadian city of St John's have been stolen, it's been reported.
The city, in the Atlantic province of Newfoundland and Labrador, installed the new smart meters three years ago, but officials now admit that around 290 of them have been "beheaded" by vandals, broadcaster CBC reports.
Thieves have found a way of ripping the top off the devices, presumably to get to the money inside, officials say.
It's a crime that's costing the local government around $1,800 (US$1,440; £1,095) a day in lost revenue, CBC says, along with the cost of $474 per damaged unit.
But thieves can only expect a low return on their crime - the average meter collects less than $10 per day, with only a small proportion of that in cash, as increasing numbers of drivers are paying by card.
Alternative car park
The spate of thefts has reopened a debate as to whether St John's actually needs parking meters in the first place.
Councillor Sandy Hickman told CBC "I think enough people at City Hall now realize that we need to look at alternative methods of charging for parking on the side of the streets," suggesting kiosks where people can pay for parking spaces.
The most pressing problem, he says, is that people can park for free at broken meters, losing the city valuable revenue.
"We want turnover... As opposed to people parking for free all day," he said.
It's not the first time that St John's has faced problems with their meters. When they were first installed in 2014, the city was forced to cut their poles down to size after it immediately became apparent that the upward-facing screens were too high for people to read.
Reporting by Alistair Coleman
Next story: Czech TV tower loses its babies
Use #NewsfromElsewhere to stay up-to-date with our reports via Twitter.