South Korea's president turns traffic reporter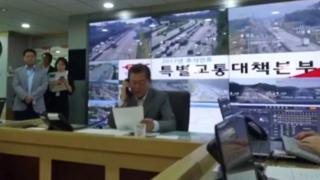 South Korean President Moon Jae-in has surprised listeners by turning up as a radio station traffic reporter for the day.
The country's leader took to the airwaves from the studios of the TBS broadcaster in the north-western city of Seongnam as part of his campaign to get closer to the people, the KBS news website reports.
TBS, or Traffic Broadcast System, is a radio station owned by Seoul's local government, and it airs traffic and travel news nationally.
Mr Moon's appearance on the station is well-timed, as it falls during Chuseok, a time in which Koreans traditionally travel to their hometowns, to be with their relatives and to honour their ancestors.
"Hello, this is Moon Jae-in... You must be surprised that I've suddenly turned up on the broadcast," the president told listeners, according to the Yonhap News Agency.
According to the president's Facebook page, he also offered safety advice to drivers to ensure that they arrive home in one piece.
"Don't forget to wear a seat belt," he said, adding that drivers on long journeys should be encouraged to take breaks.
"The most dangerous thing during a long-distance drive is 'sleepy driving'," President Moon also told TBS listeners.
Reporting by Alistair Coleman, Upasana Bhat
Next story: Malaysians in a lather over laundrette for Muslims
Use #NewsfromElsewhere to stay up-to-date with our reports via Twitter.