Lost Greek temple found after steps recounted
By News from Elsewhere...
...as found by BBC Monitoring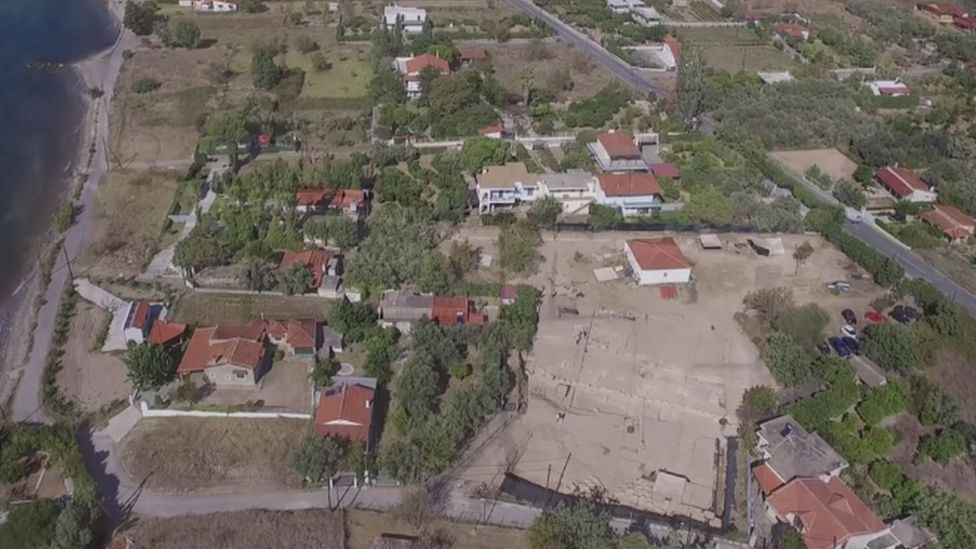 A group of archaeologists have ended a search lasting more than 100 years for a missing Greek temple, after working out that ancient directions to the site were wrong.
In 1964, a Greek and Swiss team began digging at the Eretria site on the island of Euboea, which "other archaeologists had been excavating in vain since the 19th century", Greece's ERT public broadcaster reports.
They were looking for a legendary temple to the Goddess Artemis, one of the most widely-venerated deities of Ancient Greece, as described by the geographer Strabo, who died early in the 1st century CE.
He said the open-air sanctuary stood seven Greek stades (1.5 km; about one mile) from the site of ancient Eretria. But Swiss archaeologist Denis Knoepfler discovered stones characteristic of Greek buildings of the time had been reused in a Byzantine church, and calculated that Strabo was mistaken, Swiss Radio and Television reports. He suggested a distance of 11 km (6.8 miles) instead.
So the team from the Swiss Archaeological School and Greek Archaeological Service switched the dig to a site at the foot of a hill near the small fishing village of Amarynthos. After painstaking work, they discovered a stoa, or gallery, that could have formed part of the temple, and began excavating in earnest in 2012.
Their analysis proved correct, when the team finally "cut through the gallery walls this summer to reveal the core of the sanctuary of Amarysia Artemis", the Greek Culture Ministry said.
The team has since uncovered buildings ranging from the 6th to 2nd centuries BCE, including an underground fountain, and, crucially, inscriptions and coins bearing the name Artemis - the guardian goddess of Amarynthos. "These confirm that the site was the destination for the annual procession from Eretria by local worshippers of the goddess of the hunt", says the local website EviaZoom.
Reporting by Martin Morgan
Use #NewsfromElsewhere to stay up-to-date with our reports via Twitter.