Belarus row over church bells ban story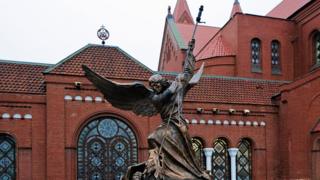 Reports that a landmark Catholic church in Minsk has been banned from ringing its bells have caused commotion on Belarusian social media, but may be based on a misunderstanding.
Canon Uladzislaw Zavalnyuk, the rector of the Church of Saints Simon and Helena, told the Belarusian Christian news site Krynica.info that the city government has ordered the church to stop ringing its bells "because they disturb local residents".
The priest professed himself baffled at this. "There are many churches in Minsk with bells, but they're not being banned from ringing them," he complained to the site.
Social media users were immediately suspicious of the city's motives. Above all, they note that there are few houses near what is popularly called the Red Church, a red-brick building that stands among government offices on Independence Square.
And people nearby seem to have no problems with the bells. Nadzyeya Hatsak, who lives within sound of the bells, says she likes to hear them of a morning. "They give the place a European feel, and you can't even hear them when you close your windows," she told Krynica.
The idea that the pro-Russian government favours the Orthodox Church is common in opposition circles, mainly because the Catholic Church is stronger in western, Belarusian-speaking parts of the country, and is also associated with the Polish minority. This allegation of bias underpins much social media comment on the story.
'Orthodox are jealous'
"This is blatant injustice. The Orthodox cathedral in Nyamiha district rings its bells right next to a block of flats, but it's the Red Church that's the problem… there's a political and cultural subtext here," writes Anastasia Damanskaya on Facebook. "The Orthodox are just jealous," says another Facebook user bluntly.
Others point the finger directly at officials, given that the church is near the seat of government and many ministries. "The bells stop the bureaucrats and city officials from having a nap, or the very sound makes their hands tremble and drop their bribes," writes Viktar Malyezhyk on the Krynica site.
The Minsk city authorities have not commented directly on the story, despite approaches from major news sites, but a spokesman for the Belarusian Catholic Bishops' Conference was able to shed light on the story.
Fr Yuryy Sanka told the TUT.by portal that the story has been blown out of proportion. "No one wants to ban any bells, and I've not seen any banning order" he said.
The Red Church recently installed a set of electronic chimes to celebrate a Bishops' Conferences of Europe council meeting in Minsk, and these need to be switched off at least some of the time while the church closes for restoration work later this autumn.
"No one is against these chimes, it's just a matter of sorting out the reconstruction work. Once everything has been properly assessed and agreed, it's even possible that real bells will be installed. There's no conflict here," Fr Sanka says.
Reporting by Gennadiy Kot and Martin Morgan
Next story: Saipan campaigns for controversial Earhart statue
Use #NewsfromElsewhere to stay up-to-date with our reports via Twitter.