Takeshi's Castle star uses video to promote tax scheme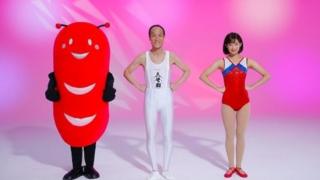 An actor-turned-politician is promoting tax payments in a Japanese region through the medium of a bizarre video starring an "alien sausage" mascot.
Former comedian Hideo Higashikokubaru (also known as Sonomanma Higashi) appears in a promotional video for a new tax scheme with the bright red mascot called Sou Seiji, the J-Town website reports.
They are publicising a scheme in Soo, a city in the eastern Kagoshima prefecture, where residents can offset their taxes by making donations to the city for local projects.
Money can be used to support local businesses, help the elderly, and promote a higher birth rate to counter a falling population, the city's website says.
Sou Seiji arrived in the city two years ago to represent the locality's pork and beef industry, and is one of a number of mascots promoting the locality, CNet Japan says.
The tax scheme also includes a competition to find Japan's best forehead, complete with Twitter and Instagram hashtags.
From Hello Kitty to headless fish
Under his stage name Sonomanma Higashi, Mr Higashi was known to western viewers as the head of the Emerald Guard in the cult TV show Takeshi's Castle.
He went on to enter politics where he served as governor of the southern Miyazaki Prefecture in 2007, and spent a year as a member of Japan's parliament.
Mascots are an integral part of Japanese culture, and there is barely a town, city or product without one.
Last month, officials organising the 2020 Tokyo Olympics held an open competition to design the games' mascot, and recently announced that they had received 2,042 entries.
According to Japanese mascot enthusiast Mondo Mascots, Japanese mascots take on all shapes and sizes, from the familiar Hello Kitty and Kumamon to the downright strange Katsuo Ningen, a fish mascot with the back of its head missing.
Reporting by Alistair Coleman
Next story: Russian couple find road built through their home
Use #NewsfromElsewhere to stay up-to-date with our reports via Twitter.