New Zealand police netball team stop fight, win game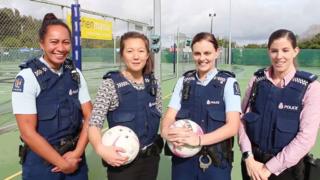 Auckland police officers have arrested a man for an alleged aggravated assault which took place next to where they were playing an off-duty game of netball, it's been reported.
Five of the seven players on their team work for Waitemata Police in Auckland's North Shore, and they temporarily abandoned their match against Shore Rovers to arrest a 31-year-old man, who is now accused of assaulting a worker at the netball courts, the New Zealand Herald reports.
"None of us said anything to each other, I didn't even look at the other girls again, but I think we pretty much came to the same decision at the same time," Constable Laura Hadwen said.
According to the Stuff.nz news website, the officers have never advertised the fact that they work in law enforcement. "We're not called the Police Team, or anything like that," Ms Hadwen explained.
"It was just his bad luck as to where it occurred. We have sort of had a laugh about it, the coincidence of it."
One of her colleagues said that even off-duty, police officers are on the alert: "Where ever we are, whatever we're doing, we'll stop at any time to help anyone, that's how we are in the police, that's what we do," Newshub reported her as saying.
Despite the temporary break in play, the Waitemata Police officers returned to their match, which they subsequently won 40-34.
Reporting by Alistair Coleman
Next story: Jakarta bans bikes from new road over selfie risk
Use #NewsfromElsewhere to stay up-to-date with our reports via Twitter.