Estonian capital to light up medieval city walls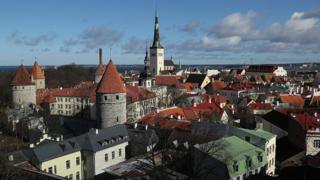 The Estonian capital Tallinn is launching an international competition for people to design night-time illuminations for its medieval Old Town.
Deputy Mayor Kalle Klandorf says "We want to create a nocturnal view of Old Tallinn that will linger long in the memory, and serve as a new calling card for our city", according to the capital's official website. The plan is to light up not only the city walls with their 27 towers, but also the slopes of Toompea Hill, where the government is based.
This will involve illuminating the Patkuli Stairs that rise from the Lower Town, as well as the gates between the Tall Hermann, Short-Leg, Bremen and Helleman towers on fortified Toompea Hill itself. The city government has provided 3D panoramas of the areas to be lit up.
Architects, electrical engineers and lighting manufacturers can all apply by 19 July, but teams must have a qualified lighting designer on board, and they must submit examples of their work. A shortlist of three candidates will then be given until 11 September to come up with a specific plan of how to illuminate the Old Town. The overall winner will receive a prize of 8,000 euros (£7,000; $9,000), and the runners-up 7,000 and 6,000 euros each.
The whole of Tallinn's Old Town was listed as a UNESCO World Heritage Site in 1997, largely because its walls and towers have survived fires and war largely intact since the Middle Ages. It is a major tourism draw, and a source of great pride to Estonians.
Russian rulers added a number of neo-classical buildings in the 18th and 19th centuries, including the Stenbock House seat of government and the current parliament building. More controversially, they also built the Orthodox Alexander Nevsky Catherdral, with its characteristically Russian onion domes.
Reporting by Martin Morgan
Next story: Russian TV presenter lashes out at council pay hike
Use #NewsfromElsewhere to stay up-to-date with our reports via Twitter.