Russian TV presenter lashes out at council pay hike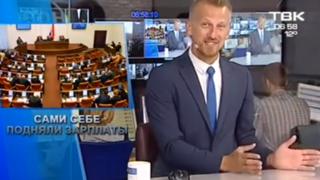 A Russian TV presenter has let rip live on air at provincial councillors for doubling their salaries, and is becoming something of a social media hit.
Alexander Smol presents the New Morning show on the TVK-6 channel in the Siberian province of Krasnoyarsk, and did not spare the sarcasm in reporting the councillors' decision to double their monthly pay to 200,000 roubles (£2,580; $3,330).
He called on viewers to join him in "applauding the ingenuity" of the councillors in managing to boost their own earnings when they were meant to be debating a salary rise for public employees - and in a unanimous vote, too.
"You guys are amazing! You were meant to increase doctors' pay, but raised your own!" Mr Smol jeered on air over a canned applause track. "We simply can't imagine how you made ends meet on just 100,000 roubles".
"There are plenty of doctors, a fair few librarians, and some other civil servants too, but they can go to hell. Here we are in the voting chamber, so let's raise our own salaries!" he imagined them saying.
Opposition councillor Ivan Serebryakov, who left before the vote, told TVK-6 the proposal came at the end of the meeting, when "usually nothing important happens". He explained the original idea discussed in committee was to increase public sector pay, but "it got changed later" and was approved by pro-government councillors.
Alexander Smol has a reputation for speaking his mind. In March he used Instagram to criticise everyone, from the mayor down to ordinary citizens, for the low turnout at a rally against air pollution in Krasnoyarsk.
But his latest outburst is no longer a local matter, as the clip on TVK-6's YouTube channel has already garnered nearly 250,000 views in less than a day. It has been shared by opposition leader Alexei Navalny and some other popular Twitter accounts, to wide popular acclaim.
"This guy is the best TV presenter in the country. Remember - this is what journalism looks like," was one typical comment.
Reporting by Martin Morgan
Next story: Russian war monument turns out to be radioactive
Use #NewsfromElsewhere to stay up-to-date with our reports via Twitter.