Britons held in Finland after going to Russia for beer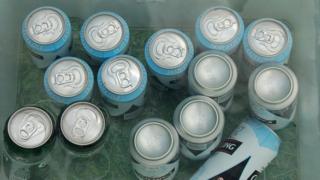 A group of British orienteers have been arrested by authorities in Finland after popping over the Russian border for a spot of alcoholic refreshment.
The four unnamed UK citizens had taken part in an orienteering competition in the south of Finland, and "couldn't resist the temptation to cross the frontier for a few quick beers", Finnish state broadcaster YLE reports.
The group was held by a passing border patrol, which spotted their car parked near the frontier where they had crossed on foot. "The men were on the Russian side for maybe 15 minutes. Across the border they had drunk several cans of beer," Finnish Border Guards investigator Timo Hakkinen said.
Officials say that the four admitted their guilt, and will probably face a fine for their illegal jaunt. They've since been released and allowed to return to the UK.
Cheaper booze
One motivation for the trip - apart from ticking off Russia on a list of countries visited - is the fact that alcohol prices are very cheap in Russia compared to Finland. Finns regularly take the ferry crossing to Estonia in order to lay their hands on cheaper booze.
According to the Ilta Sanomat newspaper, it's the second time this has happened in the last week. Earlier, a group of German tourists on an adventure holiday crossed a bridge into Russia, where they spent six minutes taking in the sights.
The Border Guards' Mr Hakkinen said that the excitement of being near the border had proved too much for them, and thought they could have at least made their extremely short "border crime" worthwhile. "It could have been more adventurous," he told the paper.
Reporting by Alistair Coleman
Next story: New Zealand parents in dog house over snacks mix-up
Use #NewsfromElsewhere to stay up-to-date with our reports via Twitter.