Chinese university makes truants clean up after opposite sex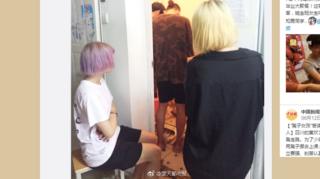 A university in central China is punishing students who skip class by making them clean the sleeping quarters of their opposite-sex peers, it's reported.
This is the choice that faces truant first-year fashion students at the Wuhan International Culture University, according to the Chutian Metropolis Daily. College counsellor Cui Bowen told the newspaper that "if students want to skip class, their classmates will remind them of this rule."
So far, three male students have been punished under the terms of the new regulation after consistently cutting class to sleep in. They had to scrub floors, dust furniture, and even clean the toilets of their female classmates.
The measure seems to have had some impact on the student body. Sun Haoran, a female student at the university, told the paper "I won't skip class in future - I don't want to clean the boys' stinky bathrooms!"
The Chutian Metropolis Daily shared pictures of male students cleaning a female dormitory on its Sina Weibo microblog, leading to a lively debate online. One widely-shared concern is that the punishment might backfire.
Some social-media users question whether the authorities have really thought through the implications of the measure. As one says, forcing male students to go into female dorms may be "just what some of them have been hoping for". Others foresee a "nightmare" for female students, with the university's next intake of students likely to be "a class full of boys".
Next story: Bali FC players celebrate their diverse religions
Use #NewsfromElsewhere to stay up-to-date with our reports via Twitter.