Bali FC players celebrate their diverse religions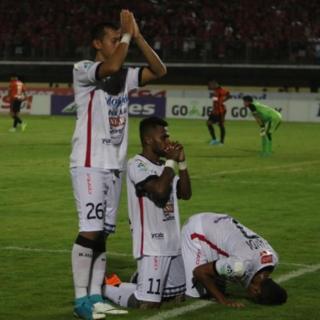 A symbolic gesture by three footballers from Indonesia's Bali United FC is being hailed as a celebration of the diversity of their team and country.
A photograph of Yabes Roni, who is Christian, along with his team-mates, Miftahul Hamdi, a Muslim, and Ngurah Nanak, a Hindu, in their respective religions' prayer positions, has been liked and shared more than ten thousand times on the club's Facebook page after photographer Miftahuddin Halim posted it on his Instagram page.
"Because different religious beliefs won't stop us from achieving the same goals," the caption under the photo says.
Many social media users have described their display as an example of the country's official motto, "different but one", and said they take their hats off to the team.
The gesture follows a period of heightened religious tensions in the mainly Muslim country, following charges of blasphemy against Jakarta's former Christian mayor, Basuki Tjahaja Purnama, who in May, was jailed for two years over the charges.
Ngurah Nanak told BBC Indonesia that the gesture from all three had been a spontaneous one after Roni scored a goal in a match against Borneo FC.
Fifa forbids players from making political or religious statements on the pitch, but does encourage the recognition of acts promoting diversity or anti-discrimination.
Next story: Tongan parliament lost for words to include woman MP
Use #NewsfromElsewhere to stay up-to-date with our reports via Twitter.