Ivan the Terrible statue goes missing after one hour
By News from Elsewhere...
...as found by BBC Monitoring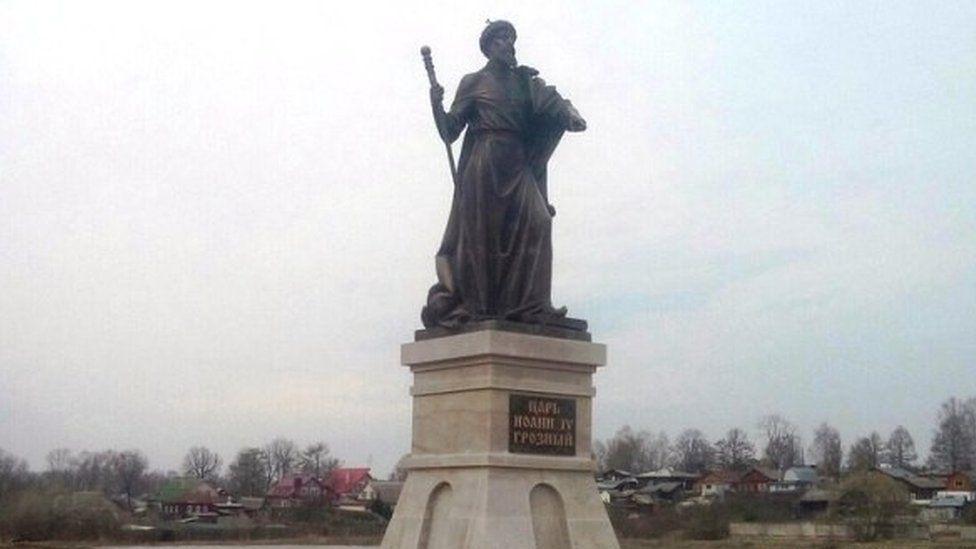 A statue of Ivan the Terrible has disappeared from a Russian city within an hour of it being installed on its pedestal.
The statue to the tsar was lowered onto its plinth by the banks of the river in Alexandrov for an inauguration ceremony initially scheduled for Saturday (29 April). However, Komsomolskaya Pravda reports that when sculptor Vasili Selivanov returned from his lunch break, the statue was nowhere to be seen.
"We decided to mount the tsar on the pedestal so that everything would be okay during the ceremony, then we went for lunch. When we got back, the statue was gone!" he told the paper.
Photos published by the Gazeta Novy Gorod Alexandrov news website show before-and-after pictures of Ivan on his plinth, and the empty pedestal on a sandy riverbank.
Local authorities later owned up to the "theft", saying that the statue had been installed too early and without the correct documentation, the Moscow Times reports. With the area around the statue nowhere near ready, the unveiling has been put back to the end of June, local official Elena Shulga said. In the meantime, Ivan the Terrible is under "heavy guard" at a local government depot, Komsomolskaya Pravda reveals.
Ivan IV - known as Ivan the Terrible or Ivan the Formidable - lived in Alexandrov for several months in the 16th Century, and despite his fearsome reputation, he played a key role in forming the Russian state. However, he remains a controversial figure among Russians. In October last year, an artist responded to the installation of a statue to Ivan in the city of Orel with a bloodied stake to remind people that "it's not so long ago that people were killed just for sport".
Reporting by Alistair Coleman, Martin Morgan
Use #NewsfromElsewhere to stay up-to-date with our reports via Twitter.