Ikea builds housing for Icelandic staff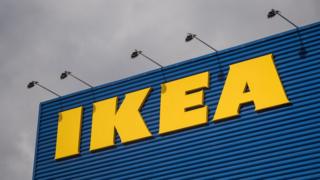 Swedish furniture and lifestyle chain Ikea is building an apartment block in the Icelandic capital Reykjavik in order to give its employees somewhere affordable to live.
The 36 flats will be available to staff next summer, the Reykjavik Grapevine website reports, saying that rents in the city have "skyrocketed" in recent years. Thorinn Ivarsson, the company's CEO in Iceland, said the development is intended to provide safe housing for its staff at a reasonable price, with the lowest rent expected to be from 100,000 krona ($889; £716) per month.
"That's a lot less than people pay for a dump here and there in town," Ivarsson told Iceland's Morganbladid newspaper, going on to say that housing security would result in happy and productive staff. The average rental price for a one bedroom flat in Reykjavik's city centre is 175,000 krona ($1,555; £1,254).
The cost of buying or renting a home has become a hot topic in Reykjavik, where the recent tourist boom has pushed prices up by some 14% in 2016, pricing many locals out of the market. Ikea staff will be given priority in renting the new housing, but it may also be offered to students and workers at a new supermarket being built in the area.
Next story: Malaysians warned over eating dumped chicken wings
Use #NewsfromElsewhere to stay up-to-date with our reports via Twitter.