Turkmen Asian Games mascot gets makeover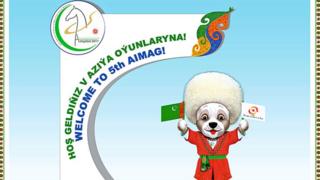 Turkmenistan's mascot for this year's Asian Indoor and Martial Arts Games is a traditional Central Asian Shepherd Dog called Wepaly, but autocratic President Kurbanguly Berdymukhamedov has decided that the look isn't traditional enough and ordered a last-minute makeover.
He told a cabinet meeting that athletes visiting the country for the Games in September must have "every opportunity to get to know our splendid culture and venerable traditions, including such totems as the Akhal-Teke horse and the Alabai, " as the dog breed is known in Turkmenistan. "The symbols of the Games must therefore reflect our rich spiritual and material culture", the president added, ordering the Academy of Arts to give Wepaly a new look, the official TDH news agency reported.
This came as a surprise to the mascot designers, as the president had signed off on the original version back in January. The opposition Chrono TM site says the local media have been avidly promoting the mascot in adverts and souvenirs, and the authorities in the capital Ashgabat were even preparing to put up a statue of the dog.
Wepaly the First is hardly lacking in national characteristics, dressed as he is in a traditional cloak and skullcap, but Chrono TM says social media users have not been happy. Some complain that his face, which is green like the state flag and tattooed with the swirling motifs of Turkmen rugs, looks unnatural. Others deem his expression and body language rather glum for a such a festive sporting event.
President Berdymukhamedov must have been paying attention, as the new design is animated and exuberant when compared with the minimalist earlier version. Wepaly has a more natural colouring, and is topped off with a telpek - the towering Turkmen sheepskin hat. The government web site shows the shepherd dog in various guises, from chess master to boxer, but the message does not yet seem to have got through to the Olympic Council of Asia, as its site still shows the more hangdog Wepaly.
Next story: NZ minister challenged to fist fight
Use #NewsfromElsewhere to stay up-to-date with our reports via Twitter.