German police bring McDonald's meals to custody cells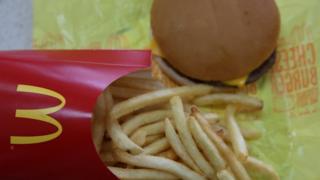 Police in a German town are heading to McDonald's to collect fast food for people in their custody cells after a catering contract fell through.
Those being held at the police station in Bergisch-Gladbach near Cologne can choose between a hamburger, cheeseburger or veggie burger from the fast food chain, which has an outlet across the road, the Express newspaper reports. There's also a "McToast" breakfast option for those waking up after a night in the cells. The more substantial burgers are off-limits, according to Express, as they're too pricey for the police budget.
The force says it's an interim solution which became necessary when its normal supplier - which also served the local hospital - abruptly ended the contract. "When we take people into custody, we need to ensure a basic supply of food as a police force," says officer Richard Barz.
They had to find somewhere that could serve up a snack at all hours and every day of the week. "The location and the round-the-clock availability made us decide in favour of McDonald's," he tells the Bergische Landeszeitung newspaper.
Last year, 642 people spent time in the station's custody cells, and about 300 meals were served, the paper says. The regional interior ministry describes the burger service as a one-off "emergency" measure, and it's optimistic that a new agreement can be made with the hospital's food supplier.
Next story: Protests relight Omsk eternal flame
Use #NewsfromElsewhere to stay up-to-date with our reports via Twitter.