New Zealand and Fiji turn away 'dirty' ship over barnacles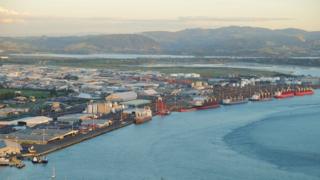 New Zealand has ordered a cargo ship to leave its waters and be "thoroughly cleaned" because of concerns about the marine life clinging to its hull.
Divers found dense clusters of barnacles and tube worms on the DL Marigold, which arrived in Tauranga from Indonesia at the weekend, the Bay of Plenty Times reports. The Ministry of Primary Industries (MPI) then gave the ship 24 hours to depart. It is the first vessel to be told to leave New Zealand because of biofouling - the accumulation of aquatic organisms on ships' hulls.
"The longer the vessel stayed in New Zealand, the greater chance there was for unwanted marine species to spawn or break away from the ship. So we had to act quickly," says Steve Gilbert, border clearance director at the MPI. Mr Gilbert describes it as a "severe contamination" and says the DL Marigold won't be allowed to return and unload its shipment until it has had a good clean.
New Zealand has strict biosecurity laws at its border in order to protect agriculture and its unique flora and fauna. Next year, tighter rules will be implemented to protect its marine environment against biofouling, with instructions on how clean ships' hulls must be before arriving in the country.
The vessel then went on to Fiji, more than 2,000km (1,300 miles) away, but the authorities there have said they will also not allow it to dock.
The Biosecurity Authority of Fiji (BAF) said the marine species carried on the hull could be devastating for Fiji's environment.
Next story: Russia 'flower rentals' for Women's Day
Use #NewsfromElsewhere to stay up-to-date with our reports via Twitter.