Egypt ad campaign backfires over 'spinster' billboards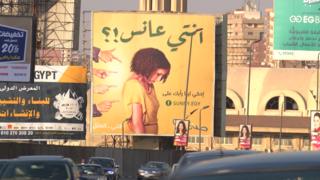 An Egyptian company's attempt to tackle gender stereotypes has backfired after its latest advertising campaign was accused of reinforcing negative attitudes towards women.
"Are you a spinster?!" reads one billboard promoting Sunny cooking oil, alongside a picture of a young woman looking down in resignation while several fingers point at her from the back. Other billboards in the campaign use Egyptian proverbs, including one that says: "Break a girl's rib and she will grow 24 more."
In a much smaller font, the adverts encourage women to share their opinions on the stereotypes through the company's Facebook page. The marketing agency behind it told Egypt's Dream TV that the idea was to create new, positive slogans inspired by women's own stories.
But the campaign's approach was swiftly criticised. "These are the kind of phrases we want to erase from our dictionary," said TV anchor Lamis al-Hadidi, adding that the wording was unacceptable even as a shock tactic to draw attention to a positive message. There was a similar reaction on social media, where many users felt the billboards would simply reinforce sexist ideas.
The head of the Egyptian Centre for Women's Rights said the company should have sought expert advice on how to convey its message. "Social change has specific mechanisms," Nihad Abo al-Qomsan told Dream TV. "You cannot change a mental image by spreading it on billboards."
Egypt's Consumer Protection Agency has now intervened on legal grounds and the billboards are in the process of being removed, according to the Mada Masr news website. Agency head Atef Yacoub said the adverts violated the law on inciting hatred against women and were "completely demeaning and offensive".
Next story: Jordanian outcry at hyena cub hunter
Use #NewsfromElsewhere to stay up-to-date with our reports via Twitter.