Cancer charity seeks help for sunburn-prone Danes abroad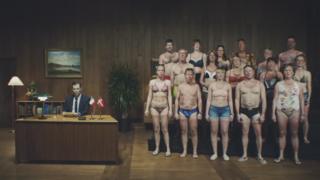 A Danish cancer charity is asking residents of foreign holiday destinations to look out for pale-skinned visitors who may be at risk of sunburn, and has launched a playful campaign to raise awareness.
The Danish Cancer Society is spreading its "Help a Dane" message through a multilingual series of videos parodying a government-style announcement. Each one sees TV presenter Mikael Bertelsen solemnly address the people of France, Greece, Italy, Spain and Thailand in their own languages, while flanked by a choir of sunburnt and swimsuit-clad Danes. The five countries are the top destinations for Danish tourists heading abroad.
"We Danes love your country, but there is a problem," Mr Bertelsen says. "The strong sun is harmful to our delicate skin and every day a Dane dies from skin cancer. We know you have a lot on your plate, but we respectfully ask for your support. Help a Dane in the sun."
Backed by some dramatic string music, Mr Bertelsen then demonstrates how locals can help their paler visitors. Remind them to seek the shade of sun umbrella, wear a hat and sunscreen, he says, while rubbing some SPF-30 into the shoulder of a shirtless Danish man.
The campaign's website invites people to sign up as "ambassadors", for which they'll receive "a special thank you" and a guide on how to help a Dane in the sun. Campaign Manager Thomas Koefoed tells the BBC that that more than 9,000 people from the five countries have signed up as ambassadors, far exceeding initial expectations. "We are touched by their willingness to help," he says.
While the advert's tone is clearly intended to be amusing, it's backed up by some serious statistics. Denmark has one of the highest cancer rates in the world, partly due to high diagnosis rates but also because of lifestyle factors. The Danish Cancer Society notes that estimated annual skin cancer cases are almost double the number in France, when differences in age distribution are taken into account.
Next story: Italian town commissions marble Donald Trump statue
Use #NewsfromElsewhere to stay up-to-date with our reports via Twitter.