Police tell Namibians: 'Don't drink and walk'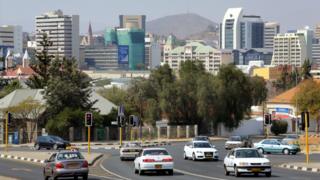 Pedestrians in Namibia's capital are being warned that they'll be breathalysed if they are unlucky enough to be hit by a car, it's reported.
Police in Windhoek will treat those travelling on foot in the same way as drivers if there's a collision - provided the pedestrian survives, the Namibia Press Agency reports. Police spokesman Edmund Khoaseb says when pedestrians are hit it's often on weekend nights after people have had tipple or two.
"Most of the time, the victims will be coming from bars and under the influence of alcohol, which makes it difficult for them to fully concentrate on the road," he tells the agency, adding that motorists could also slow down and be more attentive. It's not clear what the consequences of any elevated breath test readings would be.
The police force is also planning a campaign to teach people how to cross the road safely, and will fine those who don't use designated crossings, the agency reports.
Similar ideas have been mooted elsewhere, including South Africa, where the Western Cape provincial government issued a green paper suggesting new laws. It noted that pedestrians under the influence of alcohol "often exhibit risky behaviour, like crossing streets dangerously", but police can't usually arrest them unless they are visibly intoxicated.
Next story: Belarus town accepts recycling as utility bill payment
Use #NewsfromElsewhere to stay up-to-date with our reports via Twitter.