German bakery's Trump slices divide opinion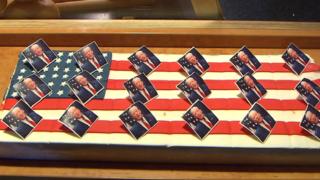 A German bakery has faced a backlash from some customers over its latest sweet treat - a cake bearing the image of its namesake, US President Donald Trump.
The cake was on sale at the Trump Bakery in Freinsheim, which decided to acknowledge its newly presidential name by creating a three-layer slice topped with a photo of the US commander-in-chief, the SWR public broadcaster reports.
Bakery owner Ursula Trump says she initially wanted to make special inauguration buns but instead settled on the Trump slice. It was meant to be "a bit of a joke, because I'm called Trump as well", she says.
The Trumps of Freinsheim are distant relations of the US president, whose grandfather hails from the neighbouring village of Kallstadt, according to SWR.
Some customers gobbled up the presidential treat, but not everyone saw the funny side. "One woman said she wouldn't be visiting the shop tomorrow in protest against my promoting such an idiot, such a twit," says Mrs Trump. "I said I wasn't a fan of his either, but I did it for the benefit of myself and the bakery." She says another man popped in to say he would boycott the bakery over its Trump slices.
Some customers did appreciate the joke, but still weren't willing to shell out for one. "I think the idea is quite funny, but I wouldn't buy them out of principle because I don't like Trump," one woman tells the broadcaster.
For those who haven't yet savoured a Trump slice, it's too late. SWR says that poor sales led Mrs Trump to stop baking them after a week.
Next story: Canada homeless charity turns car into pop-up shop
Use #NewsfromElsewhere to stay up-to-date with our reports via Twitter.