Canada homeless charity turns car into pop-up shop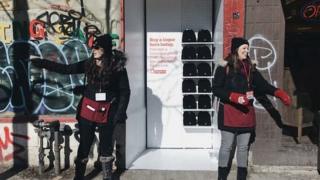 A Canadian charity is highlighting homelessness by opening pop-up shops in places that might be used by people seeking shelter.
Raising the Roof set up its first two stalls in a car boot and a doorway, painting both bright white in an attempt to make people notice a problem that they may usually ignore. The pop-up shops sell woolly hats - known as toques in Canada. "Buy a toque here today. Prevent a family from living in their car tomorrow," reads the sign on the car-turned-hat stall.
The aim is to catch people off guard. "People get used to things and then ignore it," the charity's president, Stephen Gaetz, tells the Toronto Star. "You know it is there, but you become immunised, what is great is to think of creative ways to draw attention to it."
Toronto is in the grip of a housing crisis with soaring home prices and long waits for social housing. The most recent figures available estimate that more than 5,000 people are homeless, and the city's Daily Shelter Census shows that many are currently running close to capacity.
But Raising the Roof's marketing and communications manager, Caitlin Boros, notes that shelter figures don't capture the full picture, such as those sleeping outside or couch-surfing. "When passers-by learn why we've used these spaces for the shops, there's an instant connection to the issue," Ms Boros tells the BBC. "With a significant drop in temperatures these past few days, it's difficult to imagine having to call a space like a car or store doorway home."
Next story: Water shortage sends workers on loo trip
Use #NewsfromElsewhere to stay up-to-date with our reports via Twitter.