Swiss ski village cashes in with temporary currency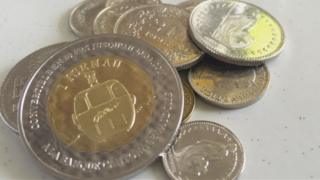 A Swiss village has launched its own temporary currency in order to boost the local economy and finance a new cable car, which residents say is essential for the area's future.
Fifty-thousand coins have been released into local circulation in the ski resort of Les Diablerets, each engraved with an image of the existing cable car's gondola-style cabins, Swissinfo.ch reports. The currency has been named the Isenau, after the ski area above the village that's reached by the ageing lift.
It's an initiative launched by the Foundation for the Defence of Isenau's Interests, which hopes it will raise 250,000 Swiss Francs to help fund the cable car project. The coins will only be in use for a limited time, though; they were first released in December and will be valid in local shops and restaurants until the end of April.
It's part of a long-term battle to keep the Isenau ski area going after a loss of funding from the regional authorities, the website explains. Foundation member Jean-Marie Schlaubitz says the ski area is "economically vital for the community" as it helps to fill the local hotel and sustain a ski school. He says the temporary currency is galvanising residents, particularly young people who "have realised they need to invest energy to save their future".
Alternative currencies are also popping up in other Swiss communities that want to keep money circulating locally. But while it's tolerated in some countries - including the UK - others clamp down on such attempts. In 2015, a Russian man was taken to court for creating a currency called the kolion. He said it was for use among local farmers and had no inflation risk because the rate was fixed at five kolions for a bucket of potatoes.
Next story: Russian tank maker publishes 'patriotic' children's book
Use #NewsfromElsewhere to stay up-to-date with our reports via Twitter.