Calls for Swiss army to accept overweight recruits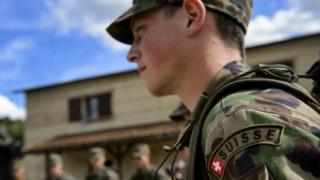 Swiss MPs want to boost the number of people entering military service by loosening the restrictions on admitting those who are overweight.
Military service is mandatory for men in Switzerland, although an alternative civilian service was created in the 1990s for those who want to opt out for reasons of conscience. The army's numbers have been shrinking ever since, but members of the Federal Assembly's security policy committee think some people's potential is being squandered, the 20 Minuten website reports.
They're calling on the government to change the recruitment rules in order to combat a skills shortage. "Let's take an overweight IT specialist. Just because he can't meet the physical requirements, he is declared unsuitable," says committee member Marcel Dobler. "He does not need a weapon for cyber defence, and physical fitness is irrelevant."
The recruitment process uses body mass index (BMI) to determine who's in and who's out - those with a measurement above 30 are only accepted if they are in good physical condition. A BMI of more than 40 means automatic rejection. The website notes that in 2012, BMI was the reason for 672 people being declared unfit for service.
It's not only weight that should be addressed, the committee says. It wants minor health problems such as poor hearing to be overlooked, too. Mr Dobler tells the site it's better to have a motivated person who doesn't meet every physical requirement, than an unmotivated person who does.
Next story: Reserved parking for China toilet users
Use #NewsfromElsewhere to stay up-to-date with our reports via Twitter.