Siberia Santas sky-dive with tree and wine for New Year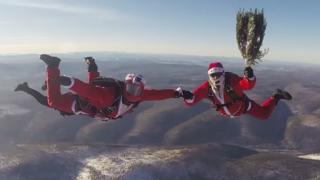 Russia's version of Santa Claus does his rounds on New Year's Eve, but this time it looks like he's decided to surprise Siberian families with some sky-diving.
Three Grandpa Frosts, as he's known in Russia, from the city of Irkutsk made a parachute jump to mark the turning of the year, and the video of their escapade has gone viral in the country's social and mainstream media. Not least because they manage to pass on the season's greetings mid-air while brandishing a Christmas tree and a bottle of sparkling wine, and all at temperatures of -27 degrees Celsius, the local edition of Komsomolskaya Pravda newspaper reports.
Andrei Royev said he and the other Grandpas had plenty of sky-diving experience as members of an armed-forces-affiliated sports club that trains at the local aerodrome. "We'd been planning a jump along these lines for some time, but this was the first year we managed to get the costumes together," he told the Inform Polis website. Mr Royev says most club members see their future with the air-rescue services, and thought a jump would be a good way of "passing on New Year's greetings to everyone".
His fellow Grandpas were "rather surprised" at how widely the video was shared in Russia, and hoped that it had raised public spirits. When asked why they jumped in Father Christmas's red costume rather than the long blue robes usually associated with Grandpa Frost, Mr Royev explained "to be honest, the shorter sleeves make sky-diving easier".
Next story: New Zealand sets up sanctuary for tiny frogs
Use #NewsfromElsewhere to stay up-to-date with our reports via Twitter.