Belarus says Santa must pay tax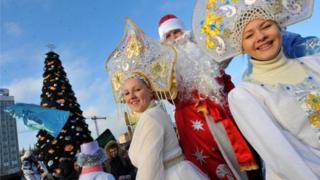 Belarus is marking the season of goodwill by sending Santa Claus a tax bill, it's reported.
Grandpa Frost, as he's known in parts of eastern Europe, and his granddaughter the Snow Maiden, will have to pay a flat rate like mere mortal business people if they want to go round the houses greeting children on New Year's Eve, according to the Tax Inspectorate.
It posted the announcement "Grandpa Frost and Snow Maiden also pay their taxes" on its Hrodna and Homel regional sites under a deceptively jolly logo. The good news is that the festive pair do not have to register as private businesses, keep accounts or present their receipts, but they must nonetheless pay the equivalent of 35-50 dollars in tax depending on the region before embarking on their rooftop tours.
The less cheery news is that this applies throughout the country, and a fine five times the size of the given tax bill faces anyone who fails to cough up, the Tut.by portal reports.
Inviting long-robed Grandpa Frost and the snowflake-crowned Snow Maiden to entertain children on New Year's Eve is popular in Belarus, Ukraine and Russia, where Christmas is a less significant holiday than in western and central Europe. The Belarusian Grandpa Frost has the additional duty of ordering frontier guards to allow the New Year in across the border, which runs near his official residence in the Belovezha Forest, the official Belta news agency proudly reports.
Grandpa Frost and the Snow Maiden earn their fees not only by delighting the children, but also by consuming the hefty portions of seasonal food and vodka prepared by grateful parents. The tax inspectors do not say whether these need to be declared as well.
Next story: Website maps Vanuatu climate change flooding risk
Use #NewsfromElsewhere to stay up-to-date with our reports via Twitter.