Sunbathing seal becomes local celebrity in New Zealand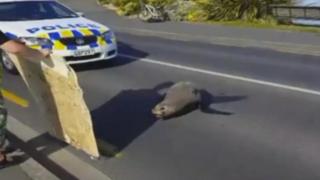 A seal has become something of a local celebrity on New Zealand's south island because of his habit of sunbathing in the middle of the road.
As the New Zealand summer reaches its height, the seal - known variously as Robbie and Dale to locals - can sometimes be seen on roads, footpaths and in gardens in the southern city of Dunedin, soaking up the rays, the Newshub website reports.
Dale's most recent escapade was to lie in the middle of a road during the morning rush, meaning police had to be called to direct traffic. The Otago Daily News shows animal conservation workers ushering the animal back into the sea using a large board.
According to Newshub, he's become a regular visitor to Dunedin, coming out of the water two to three times a week. In fact, one sunbathing session last month was said to be the tenth time the Department of Conservation had been called out, the Stuff news portal said.
"He knows me well enough by now that when he saw me, he just turned back and went into the water," a DoC official said at the time.
Now Dunedin residents are joking about ways of keeping him out. "We were talking about getting a seal wall, and making the seals pay for the wall," radio presenter Jacob Kendall told Newshub.
Next story: East Icelanders complain about TV weather map
Use #NewsfromElsewhere to stay up-to-date with our reports via Twitter.