East Icelanders complain over weather map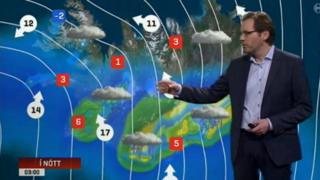 People living in the east of Iceland are complaining that they can't see where they live on the national broadcaster's weather forecasts.
According to the Iceland Monitor news website, residents are annoyed that they never see the forecast on the RUV channel for their part of the island because the forecaster is invariably standing in the way.
It's got to the point that hundreds have joined a tongue-in-cheek Facebook group called "Stop standing in front of East Iceland, dear weather forecasters" in an attempt to get them to either change the map, or get the presenter to stand elsewhere. "Scattered white shirt and a suit in the east tomorrow," one viewer wrote on the group after another frustrating weather forecast, the regional Austurfrett news website said.
Another viewer offered a couple of solutions to make the presenter stand on the other side of the map, presumably covering the capital Reykjavik instead. "We should ask for a left-handed weather reporter on RUV; or just use a pointer stick like the old days."
Broadcaster RUV says that the complaints have been noted, and it appears that they've been acted upon. Monday evening's forecast saw the presenter start on the right, before moving to the other side of the screen, revealing -11C (12.2F) temperatures for east Icelanders.
Iceland isn't the only country where viewers felt they've been sidelined by the weather forecast. In 2005, the BBC changed its weather map after complaints that the "tilt" made Scotland and the north appear smaller.
Next story: China safety campaign runs into snobbery charge
Use #NewsfromElsewhere to stay up-to-date with our reports via Twitter.