China safety campaign runs into snobbery charge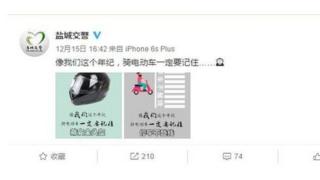 An online campaign in China to persuade motorbikers and cyclists to wear helmets has run into accusations of snobbery by suggesting they could lose face when they encounter friends driving high-end cars.
The police department in the city of Yancheng, Jiangsu Province, has put up two e-posters on its Sina Weibo microblog account. One says "You don't want your ex-classmates in their Mercedes and BMWs to recognise you" under the image of a motorbike helmet. The other tells a moped rider waiting at a pedestrian crossing that "People like us must always stop at red lights. You don't want your Porsche and Land Rover driving school friends to recognise you".
The post has attracted more than 4,000 responses since hitting the mainstream media. Although plenty of Weibo users praise the initiative, many are uncomfortable with what they consider to be the police promoting snobbery and class resentment. "Although effective, these posters send out the wrong message to rich and poor people. It's snobbish," writes one. Others wonder whether it's not counter-productive to make people the "butt of jokes" when safety should be uppermost in their minds and police priorities.
The tone of the campaign and some of the online comment may be flippant, but the issue is a serious one. The police say more than half of all deaths on the roads of Yancheng this year have involved motorbikes. Two-wheeled travellers rarely wear helmets in China in towns, and those who do are widely seen as less confident road-users.
Next story: Row over marriage guidance book for Turkish newly-weds
Use #NewsfromElsewhere to stay up-to-date with our reports via Twitter.