Kyrgyz concerns about donkey exports to China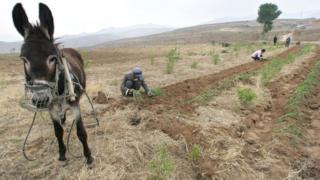 Kyrgyzstan has signed a contract to export 4,000 donkeys to China, reigniting a row about the ethics and transparency of the trade.
Police in Osh region in the south of the Central Asia state confirm that lorries laden with the live donkeys are already heading for China, adding that all licences and medical paperwork are in order, the Turmush web site reports. It established that the donkeys come from farmers in Chong-Alai village, and the price paid per head by a Chinese-Kyrgyz company is on above the local market value of 3,000-4,000 soms ($43-57; £34-46).
But local concerns about the trade persist, based largely on reports of animals going missing or being kept in residential areas ill-fitted to livestock, as well as talk of unidentified traders offering up to 10,000 soms per head. "Nobody knows who is involved, and the authorities don't care," local people told Turmush, despite the council insisting that it can account for all exported livestock. This reflects a wider debate in Kyrgyzstan about exporting donkeys to China. Chinese media are reporting a big drive to import donkeys because of a domestic shortage that has racked up the price of gelatin, which is extracted from skins for use in traditional medicine.
Some campaigners worry that animals are being slaughtered illegally in Kyrgyzstan, to avoid the cost of transporting them hundreds of miles over mountain passes, and there have been cases of skinned carcasses being found dumped in remote areas. In particular, many people remember a scandal two years ago when meat from skinned donkeys was traced to markets in the capital Bishkek, Radio Liberty's Kyrgyz Service reported earlier.
Other voices back regulation of the trade. The head of the main business association, Jyrgalbek Sagynbayev, acknowledges public anger at "carcasses being skinned and discarded wherever", and proposes special donkey farms to provide livestock in an open and accountable manner for the Chinese market. He accuses "ignorant people of stirring up the public on religious pretexts" against a potentially very profitable trade for impoverished farmers.
Some object to selling an animal whose meat is not permitted under Islamic dietary laws in the mainly-Muslim country. Member of parliament Nurkamil Madaliyev has proposed a ban on selling donkeys for meat, arguing that "nothing good will come of selling unclean animals", and people in Osh region protested against the opening of a donkey farm in their neighbourhood earlier this year, demanding that it be moved elsewhere, Radio Liberty reported at the time.
Next story: Bollywood challenges India's mental health taboo
Use #NewsfromElsewhere to stay up-to-date with our reports via Twitter.