'Lost' Aboriginal art found on government office wall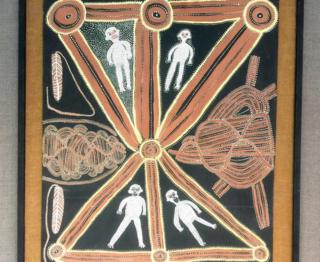 An Aboriginal painting that went missing in 1981 has been found by chance hanging in the office of a tourism official in Australia's Northern Territory (NT).
The piece, Untitled (Travelling Dreaming) by acclaimed artist Mick Namarari Tjapaltjarri, is estimated to be worth up to A$150,000 (US$110,000; £90,000) and was the subject of extensive searches after its disappearance 35 years ago, the ABC news website reports. Often referred to as a Papunya board, it was loaned to the NT Chief Minister's Office in the late 1970s, and that's where it was last seen.
But that was all unbeknown to NT tourism chief Alistair Shields, who found it in a store room and decided it would brighten the walls at the Department of Tourism and Culture in Darwin. "The office needed a little bit of life and colour, however, I had no idea that I was hanging a prized piece of Northern Territory art," Mr Shields says.
The painting could have stayed there unnoticed had it not been for head of arts Angela Hill, who spotted it hanging on the wall during a routine meeting.
The region's culture minister, Lauren Moss, describes the "very unusual mode of discovery" as a "wonderful moment of luck that brings a terrific end to a 35 year mystery". She says the painting will now be returned to the Museum and Art Gallery of the Northern Territory, where it will go on display in July 2017.
Next story: Dog slaughter banned in South Korean market
Use #NewsfromElsewhere to stay up-to-date with our reports via Twitter.