Berlin transport company makes light of Twitter vitriol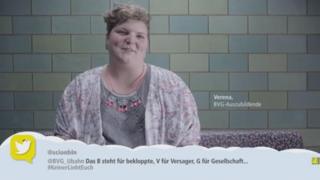 Berlin's public transport company has released a series of videos in which its employees read out expletive-ridden tweets from angry customers.
BVG, which runs most transport services in the German capital, filmed its staff reading the messages to highlight the vitriol it receives from some members of the public, regional broadcaster RBB reports. The idea has been lifted from late-night US chat show Jimmy Kimmel Live, where celebrities read out mean tweets about themselves.
The videos have been posted to BVG's YouTube channel, and contain language that German-speakers may find offensive. "The nutcase responsible for the bus and rail timetable tonight should resign immediately. So much incompetence has to hurt," reads one of the more polite tweets. Fabian, who works in the IT department, admits that "it's tough" to read something like that about his own company.
Another tweet asks the company to explain to its drivers "how a clock works", and there are some that were perhaps sent in the midst of a public transport-related meltdown: "I HATE BVG! I HATE ALL THESE IDIOTS WHO'VE STOLEN MY LIFE," one says, followed by a strong expletive. That elicits a rather calm response from the BVG employee who reads it out, but some of the ruder tweets prompt staff to dissolve into giggles.
The videos have had thousands of views and the response has been mostly supportive - many people say they want the clips to be longer. But at least one YouTube viewer isn't impressed, writing: "You think it's funny to make fun of your paying customers instead of changing things?"
Next story: Businesses offer freebies in Turkish currency campaign
Use #NewsfromElsewhere to stay up-to-date with our reports via Twitter.