Poles mock ruling party MP's deportation comments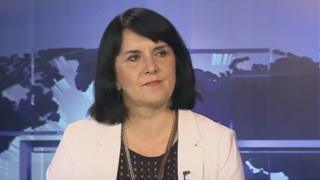 A Polish MP who suggested that non-Catholics should have to declare that they respect "Polish values" or face deportation has prompted a wave of mockery online.
Beata Mateusiak-Pielucha, of the ruling Law and Justice party, wrote an article on a new film about the Volyn massacre, but drifted onto the topic of religious minorities in Poland. "We should demand that atheists, Orthodox believers or Muslims clearly state that they know and undertake to fully respect the Polish constitution and values ​​recognised in Poland as important," she wrote on the wPolityce.pl website. "Failure to meet these requirements should serve as a solid reason for deportation."
Facebook users were quick to respond with irony: 44,000 have joined an event page called "List of Passengers for the First Deportation by Beata Mateusiak". It says it's compiling information on where people want to go, "to help the government solve the problem of logistics".
One user ponders where, as a Polish national, he would be sent: "If we are talking the tropics, I'm packed and ready to go by 10am." Journalist Jakub Zulczyk wrote a mock letter to the MP: "I am writing in relation to the deportation you are planning for atheists. May I please suggest that my family and I would most like to go to New Zealand or Argentina."
Others found the MP's words inexcusably offensive, with some suggesting she should be the first one sent away. And commentator Joanna Gierak-Onoszko noted: "The internet is laughing, but what if the demands put forward by Ms Mateusiak-Pielucha come into force?"
There may yet be repercussions in parliament, as an MP from the anti-establishment Kukiz'15 group says he plans to refer Ms Mateusiak-Pielucha's comments to the ethics committee.
But she has shrugged off the criticism, saying she wasn't suggesting any Polish citizens should face deportation, but was rather highlighting "the threat posed by the increasing number of migrants working and living in Poland".
Next story: Egypt girls launch cycling equality campaign
Use #NewsfromElsewhere to stay up-to-date with our reports via Twitter.