Singapore 'road master' kits test elderly reflexes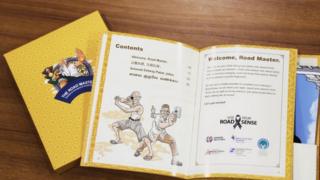 Singapore's traffic police are trying to cut the number of accidents involving elderly people by handing out thousands of kits to measure their road sense.
The "Road Master" pack includes self-administered tests for eyesight and reaction times, and a questionnaire about their hearing, the Straits Times website reports. More than 5,000 of them will be given to people at accident hot spots and community events.
It's taken six months to develop the kit in cooperation with medical professionals, and has been spurred by a rise in the number of older people being injured on the roads. Police say 229 pedestrians over the age of 60 were involved in traffic accidents in 2015, up from 195 during the previous year. The first half of 2016 saw another rise compared to the same period last year.
Among the tests to determine whether people are "road masters", the kit measures their reflexes when catching a falling object, and has them don an eye patch to test peripheral vision, the website says.
Commander Sam Tee tells Channel News Asia that police want to stop the upward trend before it gets any worse. "More elderly are being injured on the road, which is why we think it is important, given the backdrop of an ageing population, and more cars on the road as well - this is why the Traffic Police is going out in a big way to reach out to all the elderly."
Next story: Pensioner gives Kiev apartment block a baroque makeover
Use #NewsfromElsewhere to stay up-to-date with our reports via Twitter.