Criticism over Iceland MPs' massive pay rise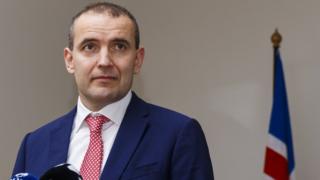 Politicians in Iceland are in line for a major pay rise but some of them aren't happy about - including the country's president.
The state body that sets officials' salaries announced on Monday that MPs would be getting a whopping 44% increase, meaning they'll earn more than 1.1m krona ($9,900; £8,000) a month. The decision was taken in order to bring MPs pay packets in line with district judges, Iceland Monitor reports, as they were until 2009. President Gudni Johannesson's salary is set to increase by about 20%, but he says he won't be banking it.
"I did not ask for this pay rise. I knew nothing about this pay rise. I do not need this pay rise," Mr Johannesson told reporters, adding that he'll donate the extra cash - about 500,000 krona per month - to a good cause. The Reykjavik Grapevine points out that the figure is more than most minimum-wage workers earn in total each month.
The bumper pay rises have prompted an outcry because they far outstrip anything seen by the general public. As well as criticism from union leaders, more than 5,000 people have signed a Change.org petition calling for the system of deciding officials' salaries to be overhauled.
Several other elected officials have spoken out, too. Reykjavik Mayor Dagur B. Eggertsson called the decision "absurd" and pledged that councillors - whose salaries match that of MPs - would step in to lower their own earnings if parliament doesn't act, Iceland Monitor reports.
Icelanders voted in a general election on Saturday which saw the anti-establishment Pirate Party triple its seats in parliament. The centre-right Independence Party came top in the poll and has been tasked with forming a coalition government.
Next story: China full-beam drivers punished by dazzling
Use #NewsfromElsewhere to stay up-to-date with our reports via Twitter.