'Lucky chicken' finds fame in Japan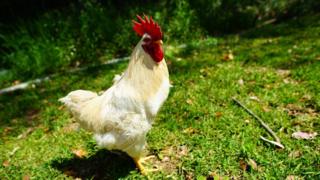 A rooster has become an unlikely draw for visitors at a Japanese zoo after dodging death three times, earning him a reputation as a lucky bird.
The male chicken, named Masahiro, has become something of a local celebrity in Osaka, even serving as an honorary "chief" of the local traffic police last month, the Kyodo news agency reports.
Masahiro was meant to become raccoon food at the city's Tennoji Zoo, but was temporarily spared in order to help raise a parentless duckling. After a couple of months, his fate appeared sealed again - this time as live bait to attract a wild weasel that had been attacking birds at the zoo. When the weasel didn't turn up, the rooster was earmarked as dinner for the lions and tigers but, Kyodo says, "his turn never came".
Having avoided a grisly end three times, zoo staff decided there was something special about this chicken and removed him from the food chain. Since then, Masahiro has been attracting visitors who want to hold him in the hope that some luck rubs off on them. The city government is also offering people the chance to register for a photo session with Masahiro this week, noting that 2017 is the Year of the Rooster in the Chinese zodiac.
Zoo vet Shin Nishioka says he never imagined that a chicken would "grab the spotlight". He tells Kyodo: "Encountering Masahiro, who survived by chance, is a good opportunity to think of what life means."
Next story: Kenya arrests 'fake' army recruits
Use #NewsfromElsewhere to stay up-to-date with our reports via Twitter.