Chechnya 'morality police' to stop wedding misbehaviour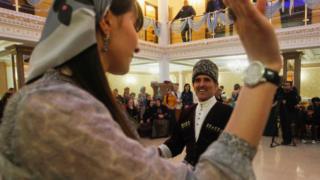 Weddings in Chechnya will now be observed by officials who are tasked with stopping "inappropriate behaviour", leading the media to dub them "morality police".
Acting Minister of Culture Khozh-Baudi Daayev says "special working groups" will attend all weddings held in public places and "stop proceedings if they see clothing or dance moves deemed alien to our national customs and traditions", the official Chechen Info news agency reports.
Officials in the capital Grozny circulated a list of do's and don'ts to restaurants a year ago, and have even raided weddings that break the rules. But the culture ministry now thinks that "preventative measures" are needed to stop celebrations getting out of hand in the first place.
President Ramzan Kadyrov and other officials frequently condemn the "Western cultural imports" that they say are undermining wedding traditions in the Muslim-majority republic in Russia's Caucasus region. These include skimpy clothing, drinking alcohol, celebratory gunfire, the bride and groom cutting their wedding cake together, and spontaneous dancing. As for the bride, she's not meant to dance at all.
The repeated warnings seem to have had little effect in the past, and even met with derision on social media. The new announcement of a morality police exasperates one Grozny resident, who tells the Kavkazsky Uzel news site: "The authorities are trying to control the public as much as possible. What next - are they going to monitor funerals?" But others agree with the minister that things have gone too far. One woman tells the site that "traditional weddings often turn into discos".
Next story: Software tracks down online 'Polish death camp' slurs
Use #NewsfromElsewhere to stay up-to-date with our reports via Twitter.