Flying squirrel numbers soar in Helsinki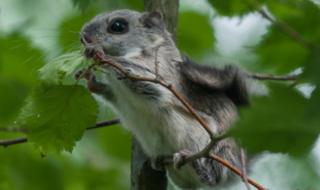 Helsinki has seen a boom in the population of Siberian flying squirrels in the past two years, according to researchers.
The city's Environment Centre says that the number of flying squirrel habitats - where evidence of their activity has been spotted - has more than tripled in Helsinki's northwest, from a dozen during the last count, to 39 this year. The biggest increase has been in city's wooded Central Park, where there are now 25 habitats, compared to just six in 2014, the Yle public broadcaster reports. The squirrels are protected by law nationwide in Finland, where the main threat comes from habitat destruction.
"It's clear that after many decades of absence the flying squirrel has returned in droves to the capital," says Esa Nikunen, the centre's director. The animals are notoriously hard to spot, and researchers track them by looking for their droppings. The squirrels need mixed forests to thrive, and Mr Nikunen tells Yle that they've benefited from the careful management of Helsinki's woods.
The squirrels' resurgence may not please everyone, though. Their protected status has in the past caused headaches for planning officials and developers, who have had to amend projects when squirrels have been found nesting nearby. But last year, architects unveiled designs for "squirrel friendly" student accommodation. The treehouse-inspired structures would allow the animals to move freely between the trees and wooden slats on the buildings' exterior.
Next story: Artist makes 'bloody stake' memorial to Ivan the Terrible
Use #NewsfromElsewhere to stay up-to-date with our reports via Twitter.