Artist makes 'bloody stake' memorial to Ivan the Terrible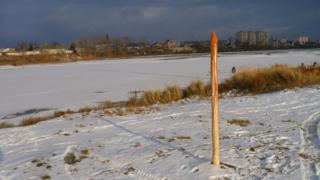 The Russian city of Orel recently unveiled a statue of Ivan the Terrible, and now an artist in Siberia has responded with a considerably more grim memorial to Russia's first and most fearsome tsar - a wooden impaling stake.
Vladislav Gultyaev installed the work, streaked red to look like dripping blood, on a river bank popular with locals in his home city of Kansk. "It reminds people while they're relaxing that it's not so long ago that people were killed just for sport", he wrote on his VKontakte page.
He says the Orel statue, which depicts Ivan on horseback carrying a sword and a cross, means Russians "condone repression, torture and executions". As for his stake, he jokes that it "symbolises our people's strong backbone, its sleek upwards profile marks our quest for glorious deeds and titanic achievements, and the blood shows that we will not balk at the price".
Orel's statue was a controversial addition to the landscape. It had to be moved to a less conspicuous spot than originally planned after complaints, but the regional governor insists it commemorates Ivan as the city's founder and isn't an attempt to "canonise" him. Leading figures on Russia's far-right attended the unveiling.
The two contrasting monuments sum up a fraught media debate over Ivan's legacy. Some church leaders and academics praise his unification of the Russian lands, while others fear the authorities want to rehabilitate him precisely because, and not in spite, of his bloodthirsty rule.
Mr Gultyaev and his stake have received plenty of positive coverage in the liberal media and on social networks, although critics accuse him of "pointless rooting around in history". He tells Radio Liberty he's glad the row has provided "grist to the mill of historical truth".
In the meantime, the city of Aleksandrov near Moscow plans to unveil another statue to Ivan in November, so the arguments may be set to continue.
Next story: South Korea anti-graft law boosts home drinking
Use #NewsfromElsewhere to stay up-to-date with our reports via Twitter.