South Korea anti-graft law boosts home drinking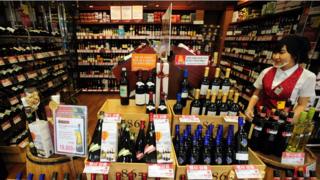 A new anti-corruption law in South Korea is having a major impact on drinking habits in the country, it's reported.
The law aims to improve transparency and restrict the wining and dining of public officials by putting limits on the value of meals and gifts that civil servants, teachers and journalists can accept. It's only been in force for a month, but already retailers have seen a spike in demand for alcohol and snacks at convenience stores, as Koreans opt to drink at home rather than in bars and restaurants, the Yonhap news agency reports.
The CU chain, which has more than 8,000 shops across the country, said beer and soju liquor sales have risen 20% since the law came in on 28 September. At the same time, the sale of drinks billed as "hangover cures" fell by more than 50%.
A sales director at BGF Retail, which operates CU, says there's been a "sharp" increase in people buying drinks and snacks in the evening since the law was introduced. Online retailers have also seen a big increase in sales of beer, wine and cocktail glasses, Yonhap says.
But while the shift is a boon for convenience stores, it's not such good news for the flower industry. As in many countries, blooms are sent by way of congratulations or condolence in South Korea. But for the professions that fall under the purview of the anti-graft law, there's a 50,000 won ($44; £36) limit on gifts, and industry experts think that's to blame for October flower sales plummeting by 22% compared to the same period last year.
Next story: China clean-up stopped over too many cigarette butts
Use #NewsfromElsewhere to stay up-to-date with our reports via Twitter.